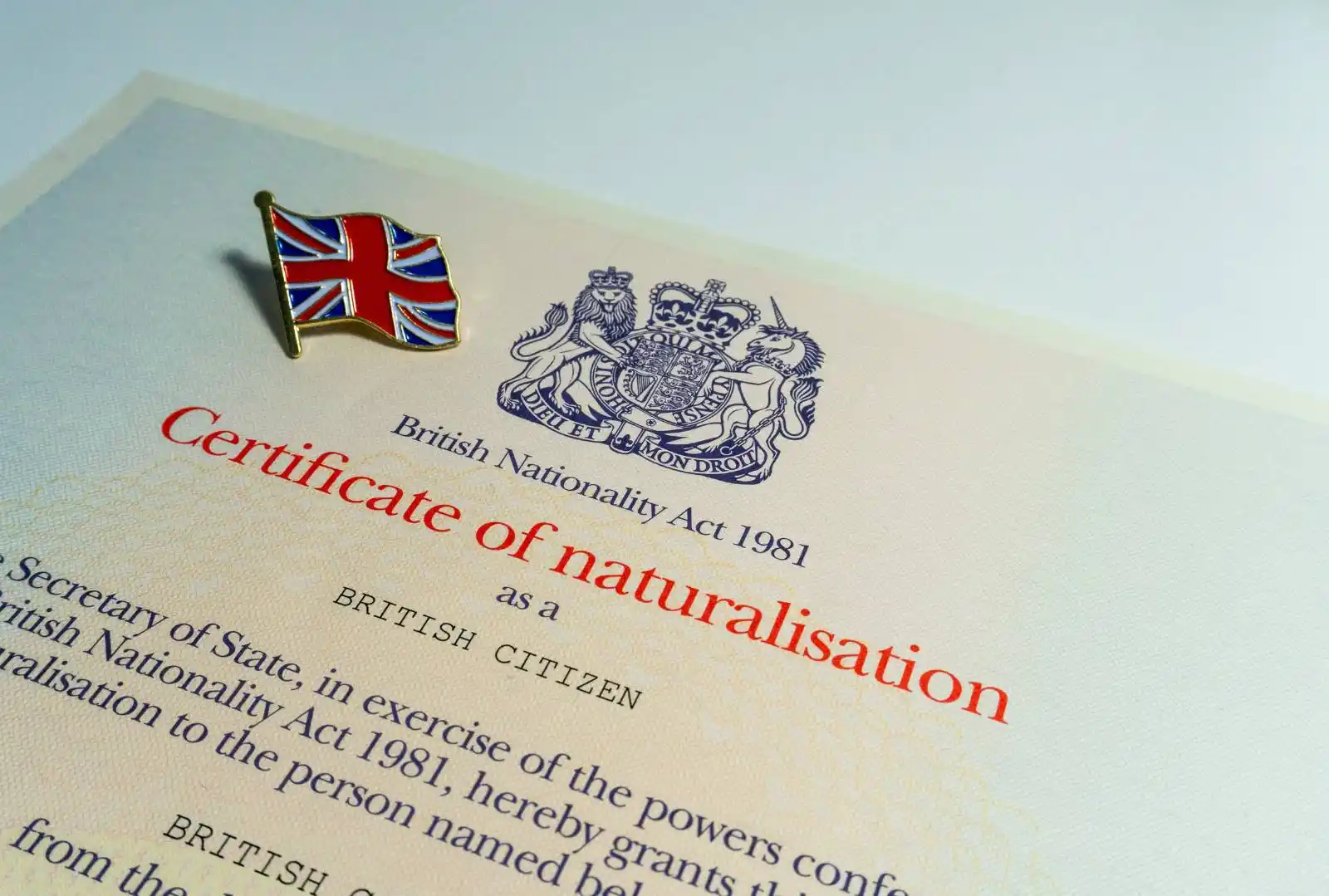 A certificate of naturalisation is a way for non-UK nationals to have the same rights as British citizens in the UK.
Naturalisation certificates are issued to people when they gain British citizenship, and proves the fact that they are UK citizens.
How do I get a naturalisation certificate?
To get your naturalisation certificate, you must first apply for British citizenship.
You will need approval to stay in the UK while waiting to be granted citizenship. If you have Indefinite Leave to Remain (ILR), or are on the EU Settlement Scheme (EUSS), you already have permission.
There are several different paths that can lead to you getting citizenship. 
If you have held ILR for 12 months.

If you have Settled Status under the EUSS.

Being married or in a civil partnership with a British citizen, whilst holding ILR or Settled Status under the EUSS.

If your parents are British

You hold another type of British nationality; for example, if you have lived in Hong Kong.

The Government's website has more information on ways you can gain British citizenship.
More information on the requirements for naturalisation can be found on our page.
What do naturalisation certificates allow you to do?
With this certificate, you can prove your identity to gain access to many benefits. For example, you can access the NHS, get benefits, and vote.
Also, you can use the certificate to prove that you have the right to work in the UK and apply for a mortgage. 
One particularly useful benefit is that you can apply for a British passport, giving you access to visa-free travel to 125 countries around the world. 
What if my certificate is lost, damaged or has a mistake on it?
If your certificate is lost or damaged, you will need to get it replaced. This service costs £250.
There are slightly different procedures, which depend on how your certificate was lost or damaged. The process is also different if you became a citizen before 1986.
If your certificate has a mistake on it that is not your fault, then you can get a free correction. 
Additionally, if the mistake was your fault, then you will need to pay £250, like with the lost and damaged service. 
The application form for corrections can be found on the Government's website.
You can find out more on our blog post about replacing naturalisation certificates.
Can I use my certificate overseas?
Your naturalisation certificate can be used overseas as proof of citizenship, if you have an Apostille.
An Apostille is a way of legalising documents with the Foreign, Commonwealth and Development Office. 
We can assist you with the process of getting one.
Our legal experts can assist you with all of your naturalisation needs.
Contact us today if you need our services.
If you have any questions about the changes or want legal advice, contact
Woodcock Law & Notary Public today. Contact us by phone on 0330 133 6490 or
by email at info@woodcocklaw.co.uk.