Renewals of Undefined Certificates of Sponsorship: Deadline reminder
If you're on the Home Office's list of approved sponsors, and wish to continue employing foreign nationals, you need to renew your Undefined Certificates of Sponsorships allocation before April 2022.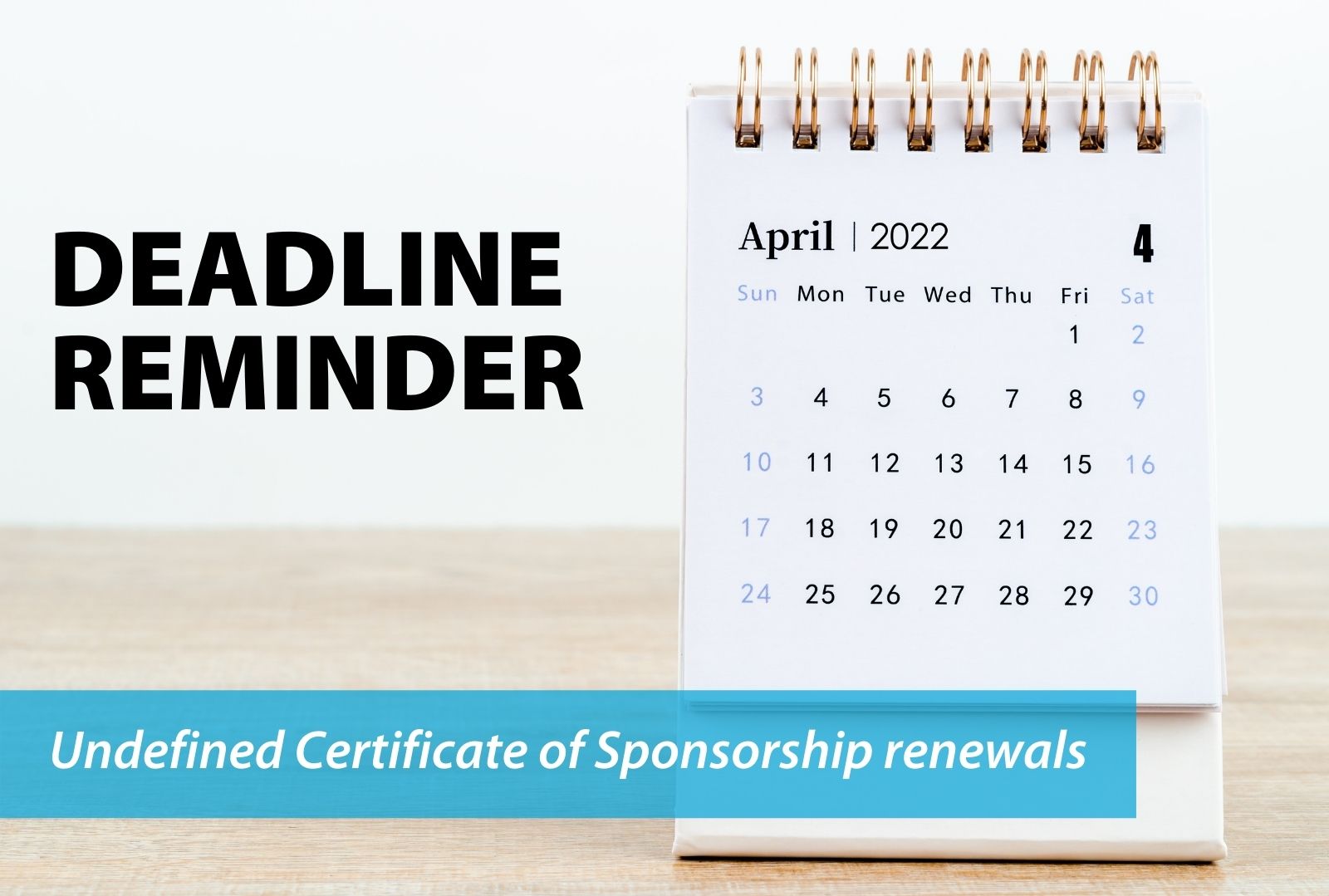 There are thousands of businesses in the UK who have their sponsor licence. They are all listed on the Home Office's register of licensed sponsors. 
These businesses are able to grant certificates of sponsorship to the foreign workers on their payroll, enabling them to live and work in the UK. The certificates themselves are electronic rather than physical and, once they are granted, the worker in question can then use it to apply for a visa. 
What is the Undefined Certificate of Sponsorship?
The Undefined Certificate of Sponsorship (UCoS) is a certificate that employers can grant job applicants in order for them to acquire a visa.
There are several different types of certificates which are given to individuals according to the specific circumstances of the individual in question. The UCoS is for skilled immigrant workers who are applying for jobs from inside the UK, as well as people currently in the UK on all types of visas.
Which businesses need to renew?
If you, as an employer, are already registered on the list of approved sponsors, and you know that you will need to be allocated UCoS, in order to benefit from immigrant labour, then you need to go through your Certificate of Sponsorship Renewal.
If any of the below circumstances apply to you then you will need to renew your UCoS application:
You currently employ skilled workers.

If you employ skilled workers that will need their permits extending between April 2022 and April 2023.

You have identified migrants you wish to employ between April 2022 and April 2023.

Those already registered by the Home Office will soon receive a notification, if they haven't already, that their application is up for renewal. 
If you don't need to renew your UCoS
If you do not want or need to renew your application then there is no formal process to go through. Your application will expire if you let the deadline pass.
If, at a later date, you do require an allocation of UCoS then you will be free to apply for the Home Office's register when it becomes clear that you require them. You can apply at any time. 
When is the deadline for renewal?
The new renewal deadline is the start of the new tax year, which is in April 2022. If renewed, the application is valid for another year and will be valid until April 2023.
If you have any questions about the changes or want legal advice, contact
Woodcock Law & Notary Public today. Contact us by phone on 0330 133 6490 or
by email at info@woodcocklaw.co.uk.