Why you should consider using an immigration solicitor
With immigration advice and information freely accessible online, you may not think it necessary to instruct an immigration solicitor. However, the complexity of UK immigration means that it is often advisable to follow the advice of specialist immigration solicitors rather than trusting online sources.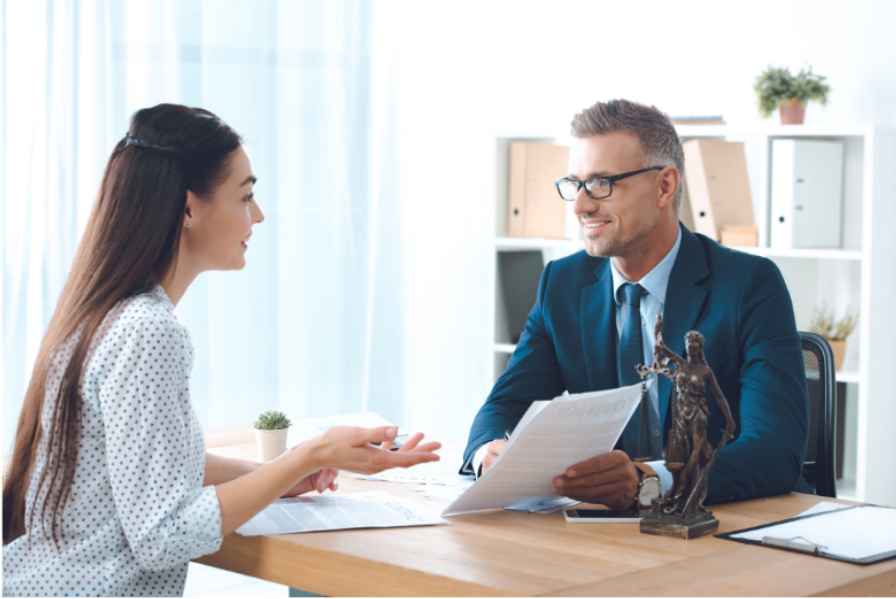 By Samantha Lang,
Legal Intern
Woodcock Law and Notary Public is a London-based, modern law firm that provides efficient, innovative immigration services and advice.
The members of our legal team are highly experienced in all aspects of UK immigration law. Whether you are an individual or corporate client, we offer the very best service that is tailored to your individual requirements. 
Why instruct an immigration solicitor?
Immigration solicitors are trusted, qualified practitioners who have extensive knowledge and expertise in this field of law. They will ensure that each application you submit is complete and faultless, which significantly reduces any chance of your application being refused by the Home Office.
Immigration solicitors will be able to support you at the appeal stage if your application is refused, know how to deal with any issues and answer questions you have while your matter progresses. Online sources and other agencies cannot offer this level of expertise and support. 
The dangers of working with unregulated or unqualified advisers
Unfortunately, there are unregulated, unsupervised and unqualified individuals posing as immigration solicitors and barristers, often outside the United Kingdom.
These unregulated services can be created by anyone without legal skills or training. They take advantage of clients by charging extortionate fees, even though they are unable to effectively represent their clients before a judge.
It is a criminal offence for an unqualified person to give immigration advice or to represent a client, as they are not regulated by any of the professional regulators such as the Bar Council, the Solicitors Regulation Authority, or the Chartered Institute of Legal Executives. If you meet one, you must report them to the Office of the Immigration Services Commissioner (OISC) or the police.
Business immigration services
Our immigration solicitors are specialists in business immigration, providing expert and professional legal services for corporates. This includes business owners, managers and HR professionals. 
Whether you wish to establish a UK branch of an overseas company, or carry out intra-company transfers of existing employees, our immigration solicitors can assist you.
| Visa Applications |   |
| --- | --- |
| Innovator Visa Application | This visa is for experienced businesspeople who intend to set up or run a business in the UK. |
| Investor Visa Application | This visa is an immigration route for high-net-worth individuals who are able to make a substantial financial investment in the UK. You must have access to at least £2 million in investment funds to apply. |
| Start-up Visa Application | This visa enables entrepreneurs to set up an innovative first business in the UK. |
| Representative of an Overseas Business Visa Application | You can apply for this visa if you are an employee of an overseas business who intends to be the sole representative of your employer in the UK. |
| Other Applications and Matters |   |
| Sponsor Licence Applications, Renewals and Revocations | UK companies need to obtain the relevant Sponsor Licence from the UK, the Home Office, before employing skilled workers from outside the UK. |
| Certificates of Sponsorship | We offer training and advice on issuing Certificates of Sponsorship. For example, we can assess whether a prospective employee satisfies the points criteria before you issue a Certificate of Sponsorship. |
| Skilled Occupation Codes | We can offer training and advice on assigning SOCs to skilled workers. |
| Compliance Audits and Civil Penalties | We provide a full assessment of your requirements and advise you on what documents must be retained. We provide bespoke training to you and your staff on Home Office processes. |
| Work Visa Applications |   |
| Intra-company Visa Application | This visa allows existing employees of multinational companies in foreign countries to transfer to a job in their company's UK branch for up to five years. |
| Skilled Worker Visa Application | This visa, which replaced the Tier 2 (General) work visa, is the main visa route for foreign workers to live and work in the UK under the new immigration system. |
| UK Global Talent Visa Application | This visa is for exceptionally talented and promising individuals in the fields of academia or research, arts and culture, or digital technology who wish to work in the UK. |
| Temporary Worker Visa Application | This visa offers a variety of options for overseas nationals to take on short-term work in the UK that will satisfy cultural, charitable, religious, or international objectives. |
| Youth Mobility Scheme Visa Application | This visa is for young adults from certain countries to live and work in the UK for 2 years. This is one of the main sub-routes for the Temporary Worker route. |
Personal immigration services
We also handle personal and immigration matters and provide bespoke services to our clients. We offer guidance and assistance through each stage of the immigration process, from visa applications, switches, and extensions, right through to Indefinite Leave to Remain and British citizenship.
Study Visa Applications
 

Student Visa Application

If you wish to study and live in the UK, you can apply for this visa, which has replaced the Tier 4 (General) student visa.

Family Visa Applications
 

Family Visa Application

If you wish to live in the UK with your partner who is a British citizen or who has Indefinite Leave to Remain for more than 6 months, you can apply for a Family Visa.

Any dependant children under the age of 18 may be added to your application to join you in the UK as your dependant.

Visitor Visa Applications
 

Standard Visitor Visa Application

If you want to visit the UK, you may need to apply for this visa, which is usually valid for up to 6 months.

EU, Commonwealth & BN(O) Applications
 

Ancestry Visa Application

This visa is available to Commonwealth citizens who have at least one grandparent born in the UK, and who intend to work when they arrive in the UK.

British National (Overseas) Visa Application

This visa route is for Hong Kong citizens who have BN(O) status, and their close family members.

EU Settlement Scheme Application

This scheme is for EU, EEA or Swiss citizens and their qualifying family members to continue living in the UK after 30 June 2021. You can also apply if you're the family member of an eligible person of Northern Ireland.

UK Settlement Applications
 

Indefinite Leave to Remain (Permanent Residency) Application

This is an immigration status granted to non-British citizens enabling them to settle in the UK.

Naturalisation (British Citizenship) Application

Naturalisation is for applicants who have legally lived in the UK for five years, with an extra 12 months or more with Indefinite Leave to Remain or Indefinite Leave to Enter.
We also manage complex immigration cases and appeals.
Our fees for immigration services
We pride ourselves on offering a professional, friendly premium service at reasonable prices. We charge flexible fixed fees based on the type of immigration application required, the experience of the solicitor and the complexity of your specific case, which is why there is usually a range given in the pricing.
You can find a table of our immigration service fees on our website.
There are many requirements to be met to satisfy Home Office and ensure a successful outcome. UK immigration is complex, and the Immigration Rules are updated frequently. Woodcock Law & Notary Public keep on top of it all with our current knowledge so that you don't have to.
If you have any questions about the changes or want legal advice, contact
Woodcock Law & Notary Public today. Contact us by phone on 0330 133 6490 or
by email at info@woodcocklaw.co.uk.